A New Life of Dracula. The album THEMES OF DRACULA from ANAKLASIS premieres on 19th August!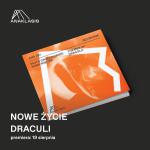 2022-07-18
When cinema's great visionary Francis Ford Coppola is calling – the director of The Godfather and Apocalypse Now – who would hang up on him? Wojciech Kilar took up the offer of cooperation, which resulted in his soundtrack (now of cult status) for the tale of the Transylvanian monster whose love was a bit too strong. Years later, this pathetic-lyrical cantata for mixed choir and symphony orchestra has been turned inside out by pianist Piotr Orzechowski and saxophonist Kuba Więcek. The album THEMES OF DRACULA, comprising deconstructed themes from Dracula, will go into distribution as of 19th August, as part of the catalogue of PWM Edition's label ANAKLASIS.
 
It is not without reason that Piotr Orzechowski has been nicknamed Pianohooligan. He takes much satisfaction in demolishing the boundaries between the old and the new, between classical and jazz music. Kuba Więcek is, on the other hand, one of the most versatile jazz musicians of his generation, deriving pleasure from discovering new contexts, challenges, and types of sound for his music. Some may complain that Orzechowski and Więcek's take on Kilar is a sacrilege. What they have created, however, elevates variations on Wojciech Kilar's film music to quite a new level of musical understanding.





"I see this music as a summary of what we have played with Kuba so far. From the start, two tendencies have competed in us: It was either shared impulsiveness, or joint constructing effort. These two have met here for the first time, based on Kilar's motifs, so one could call this project our first joint composition – a kind of suite," Piotr Orzechowski explains.

The CD THEMES OF DRACULA employs the same strategy that we know from Kilar's original soundtrack, combining functional with autonomous aspects of music. Themes from Dracula can distinctly be heard, though invariably as a response and reinterpretation, different from the originals. Orzechowski and Więcek approach the original with respect but do not unduly idolise it. They quickly build their own space which, though derived from Kilar's music, becomes their autonomous creation. The film motifs have been remade, transformed, and commented upon by both of them. Some were arranged in advance (the duo has presented this programme in concert since 2021), while the others emerge from free improvisation, which, however, eludes association with jazz – the genre most commonly associated with improvisation today. Jazz is here only one of many points of reference. The piano and the sax enter into dialogues and interactions in a much wider field, leaving extended jazz harmonies and swingy sound behind. What counts is response, reflexes, commentary, mutual attentive listening to rests and timbres, a joint exploration of moods and narrative directions in what can be called improvised composition or composed improvisation.

"Playing with Piotr for the last five years, we have developed our own form of communication in music. Wojciech Kilar's compositions have proved highly congenial to our own sound language, providing us at the same time with endless resources of inspiration on every occasion when we play this material," says Kuba Więcek.

THEMES OF DRACULA is the ninth album in the REVISIONS series, which presents music-lovers with experiments, boundary crossing, revolutions, and, most of all, the legacy of composers who come from different musical worlds.

The album featuring themes from Dracula will be available from the best bookstores and music shops, online services, as well as the virtual shop of the empik chain as of 19th August.

#sharpenyourears for THEMES OF DRACULA from ANAKLASIS

The album's media patrons: TVP Kultura, RMF Classic, Culture.pl, and Ruch Muzyczny.