Beginning from 2019.01.01 PWM Edition is not going to process any orders placed in internet shop by individual customers from countries other than Poland. Please find your local distributor on the list, or order our sheet music through the Hal Leonard online shop: http://www.musicshopeurope.com http://www.halleonard.com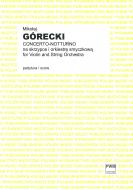 Concerto-Notturno
for Violin and String Orchestra
Countries of delivery:

This piece was commissioned by the Musica Viva Music Society and its premiere took place on 22 VIII, 2001 during the final concert of the Fifth Lubuska Camerata 2001 International Chamber Music Festival. Since its inception it has enjoyed great popularity and has found a place in the repertoire of many violinists, including Kaja Danczowska, Patrycja Piekutowska, Krzysztof Bąkowski, Paweł Kukliński. It comprises three movements played attacca: 1 Lento 2. Allegro 3. Molto lento. The first movement has the nature of a ''nocturne'' - Lento - in which the singing, lyrical theme in the violin sound is accompanied by extensive sound planes, forming a slow, static course. In contrast to this, the second part is virtuosic - Allegro in which vibrant movement dominates with sixteenth notes and syncopated rhythms. The shortest of all, the nostalgic third movement, has the character of free improvisation on the violin; in terms of orchestral texture it is a reference to the first part.
Language of edition: eng, pol
Number of pages: 74
Cover: softcover
Type: score
Size: A4 vertical (210x297 mm)
29,00 EUR
Suggested retail price.


Other author's publications
Violin with orchestra (ensemble)