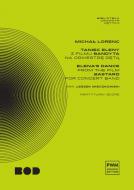 Elena's dance from the film "Bastard"
for concert band
Countries of delivery:

Michał Lorenc's vibrant theme from the film Bastard, arranged by Leszek Mieczkowski. This work has been arranged for large wind ensemble with alternative and additional parts, thanks to which it can also be performed just as effectively by a smaller ensemble. The arrangement is also suitable for amateur bands and beginners.
INSTRUMENTS:
Obsada:
Flute Piccolo
Flute
Oboe
Bassoon
Clarinet I in Bb
Clarinet II in Bb
Clarinet III in Bb
Bass Clarinet in Bb
Alto Saxophone I
Alto Saxophone II
Tenor Saxophone I
Tenor Saxophone II
Baritone Saxophone
Horn in F I
Horn in F II
Horn in F III
Trumpet in Bb
Cornet
Trombone I
Trombone II
Bass Trombone
Tenor Horn I
Tenor Horn II
Euphonium
Tuba
Timpani
Triangle, Tambourine
Bass Drum
Harp
Series: Concert Bands Library
ISMN 979-0-2740-3117-6
Language of edition: eng, pol
No. of edition: 1
Published: 2020
Type: score, on-line, enotes
Size: PDF