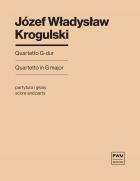 Quartetto in G major
for string quartet
Countries of delivery:

Cat. no. 12764

EAN: 9790274033231
Józef Władysław Krogulski's Quartetto in G major consists of four movements, modelled on a Classical sonata cycle. The composer draws here on solutions typical of Viennese classicism, while also employing elements characteristic of an early Romantic musical language.
The first movement Allegro is a sonata form with two distinctly traced and contrasting themes and a development that replicates the structure of the exposition. Only in the conclusion of the reprise does the composer break with the schematic form, introducing a coda section that begins after a general pause with the principal theme in the key of E flat major and a piano pianissimo dynamic. The second movement Andante, in the form of strophic variations, is the movement in which the early Romantic expressivity of Krogulski's style is most strongly manifest. The transformations of the theme are accompanied by violent changes of dynamics, texture and harmony, and both the melody of the principal theme and its counterpoints in the accompanying parts undergo chromaticisation. Unlike the texturally rich second movement, the Minuet is marked by a simple homophonic texture. This movement begins forte with an energetic musical idea in E minor, powerfully contrasting with the middle Trio in E major, which adheres almost exclusively to a soft dynamic. In the closing Allegro vivo, Krogulski turns to a stylisation of a krakowiak dance, lending this movement a national character.
The present publication is the first edition of Krogulski's Quartetto in G major, based on a manuscript held in the Jagiellonian Library in Cracow (shelf-mark VIII 1). 
Series: Camera
ISMN 979-0-2740-3323-1
Language of edition: pl, eng
Number of pages: 96
Cover: softcover
No. of edition: 1
Published: 2021
Type: score and parts
Size: N4 vertical (235x305 mm)
Other titles in the series