Beginning from 2019.01.01 PWM Edition is not going to process any orders placed in internet shop by individual customers from countries other than Poland. Please find your local distributor on the list, or order our sheet music through the Hal Leonard online shop: http://www.musicshopeurope.com http://www.halleonard.com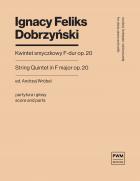 Quintet in F Major
Op. 20
Countries of delivery:

Quintet in F major Op. 20 was premiered in Warsaw, at the hall of the Merchants' Club, on 19 November 1834. Except for Józef Kaczyński, a professional, the performers were amateurs: captain Tatarinow and Mr Pfaff (violins), Mrs Kaczyńska (wife to Józef Kaczyński) and Karol Wernik (violas). As the reviewer of The Musical and Theatrical Diary remarked, the performers played ''bravely, with special strength and expression''. A year later the Quintet was published by Hofmeister in Leipzig and it is on that publication that the present edition is based, the autograph having been lost. [...] The form of the Quintet in F major is fundamentally classical. According to Józef Elsner, a teacher whose formative years had been in the previous epoch, the first movement is a typical sonata allegro; the second, albeit called ''Menuetto'', is a mazurka. The third movement - ''Andante doloroso ma non troppo lento'' - is an example of a spontaneous reaction to the results of the November Uprising. The Polish national anthem included in ''Andante doloroso'' is self-explanatory. Dobrzyński took a great risk including this then forbidden melody in a chamber composition. In the course of his overture ''Polonia'', written several decades later, Wagner also used this melody. In both cases the political sense is obvious. The fourth movement is cast in a typical rondo form. (...) [Andrzej Wróbel]
Series: Polish Chamber Music
ISMN M-2740-0281-7
Language of edition: eng, pol
Number of pages: 120 A5 + 82 A4
Cover: softcover
No. of edition: 1
Published: 2007
Type: score and parts
Size: A4 vertical (210x297 mm)
36,00 EUR
Suggested retail price.


Other titles in the series
Other author's publications
Piano quintets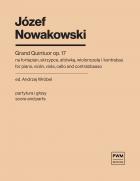 Józef Nowakowski

Grand Quintuor
35,00 EUR Suggested retail price.