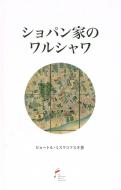 The Chopins' Warsaw
Japanese version
Countries of delivery:

Cat. no. 61310130

ISBN ISSN: 978-83-61142-93-5
The Chopins' Warsaw is an English translation of the guidebook to Fryderyk Chopin's home city of Warsaw written by Piotr Mysłakowski, a leading expert on Chopin's biography and genealogy.
Places connected with the history of the Chopin family, verified and documented by sources, are described and located on a map of present-day Warsaw. No previous guide has provided such a wealth of reliable historical information concerning addresses associated with the Chopins.
The book describes and depicts on a map of the contemporary Warsaw all places connected with the history of Chopin's family. None of the guidebooks published so far is such a rich and reliable source of knowledge about Chopin's addresses.


The book covers the period from 1787 to the last decade of the 19th century and is devided into three chapters:
1.The Warsaw of Mikołaj Chopin's bachelorhood (1788–1806)
2.The Warsaw of the Chopin family - from the birth of Ludwika to Fryderyk's departure (1807–1830)
3.The Warsaw of the Chopin family after Chopin's leave (1830–1881)
Particularly worth noting is the map of Warsaw dating from 1818–1822 – the work of Polish military cartographers of the General Quartermaster Department. That map serves as the underlying illustrative material, onto which contemporary drawings of selected fragments of the city map have been superimposed.
Language of edition: jap
Number of pages: 264
Cover: hardcover
Type: books