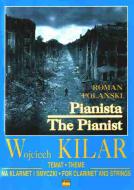 Theme [Moving to the Ghetto] from the film "Pianist"
for Clarinet and String Orchestra
Countries of delivery:

Cat. no. 10241

ISBN ISSN: M-2740-0022-6
''The Pianist'' is a screen adaptations of the memoirs of Władysław Szpilman (played by Adrien Brody), an eminent composer and pianist, who experienced persecution during World War II because of his Jewish origin, barely avoiding deportation, struggling to survive with the help of his friends. The film won numerous awards, including the ''Golden Palm'' at the Cannes Film Festival (2002) and, in 2003, the French ''César'' in seven categories, including Film Music. Wojciech Kilar was also awarded an Anthony Asquith BAFTA Award for Best Film Music (2003), and an Eagle (Orzeł) from the Polish Film Academy for Best Music in 2003.
Series: Musical Frame (Film Music)
Language of edition: eng, pol
Number of pages: 26
Cover: softcover
No. of edition: 1
Published: 2003
Type: score and parts
Size: A4 vertical (210x297 mm)
Other titles in the series
Other author's publications
Clarinet with orchestra (ensemble)