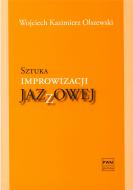 The Art of Jazz Improvisation
(+CD)
Countries of delivery:

Cat. no. 20716

ISBN ISSN: 978-83-224-0943-5
The Art of Jazz Improvisation is the third book by Wojciech Kazimierz Olszewski to be published by PWM. Its purpose is to complete knowledge of jazz music for the pupil / student / music lover in the area of the most important element of this music - improvisation. The author discusses various aspects of this difficult art, including rhythmic pulsation and meter in jazz compositions, harmony, and its dependence on scales, the use of special effects, characteristics of different instrumental groups, skillful introduction of musical quotations, riffs etc. It explains the role of individual instruments in the band through rhythmic, harmonic and melodic perspectives. It gives some useful observations on the preparation of a performance from programme selection and setting the order of solos, to communication with the audience during the concert. The publication contains an Appendix, in which the reader may refer to the elements of building and developing solos, various scales and the authors compilation of jazz literature (music and jazz albums), knowledge of which is - according to Wojciech Kazimierz Olszewski - an essential element of the jazz musicians education. Included with the book is a CD with the scales presented in the text and short fragments of piano improvisation accompanied by the rhythm section, based on these scales.
Language of edition: pol
Number of pages: 312
Cover: softcover
No. of edition: 1
Published: 2012
Type: books
Other author's publications