Beginning from 2019.01.01 PWM Edition is not going to process any orders placed in internet shop by individual customers from countries other than Poland. Please find your local distributor on the list, or order our sheet music through the Hal Leonard online shop: http://www.musicshopeurope.com http://www.halleonard.com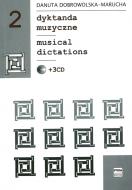 Musicals Dictations
Book 2 + 3 CD's
Countries of delivery:

Cat. no. 10243

ISBN ISSN: 978-83-224-0936-7
Dictations were chosen out of existing treasures of music - they are fragments of authentic art.-music. The pupils writing dictations at the same time get to know more musical literature, familiarise themselves with characteristics of style, texture and form of different composers in different epochs. The textbook comprises also some examples of Polish folk songs, coming from different regions of Poland. The issue contains 3 compact-discs. [Danuta Dobrowolska-Marucha]
Language of edition: eng, pol
Number of pages: 192
Cover: softcover
No. of edition: 4
Published: 2016
Type: books with CD/DVD
Size: B5 vertical (175 x 245 mm)
40,00 EUR
Suggested retail price.