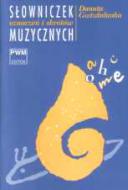 A Little Dictionary of Musical Terms
Countries of delivery:

Cat. no. 20229

ISBN ISSN: 978-83-224-0551-2
''A Little Dictionary'' has been designed primarily for students, pupils and music school teachers, who have to cope every day with translation of foreign music terms found in published music. It will also be a valuable aid for all musicians - at whatever stage of their career. The publication contains definitions of over 2000 words, phrases and abbreviations in five languages: Italian, French, English, German and Latin; an alphabetical list of abbreviations of names of instruments used in scores; a correlation of basic tempo indications to the metronomic scale; and the assignment of names in German, English, French and Italian to the notes on the keyboard. The dictionary is the most ample compilation of interpretative expressions available to a Polish reader. In dictionaries and encyclopaedias hitherto published only a few hundred terms, mainly Italian, have been explained. However, neither peculiar expressions, found in works from the turn of the nineteenth and twentieth centuries and often used only once, nor terms connected with avant-garde performance techniques of the twentieth century, have been included in the ''Little Dictionary''.
Language of edition: pol
Number of pages: 84
Cover: softcover
Published: 2014
Type: books
Size: A6 (100x147 mm)
Other author's publications