Beginning from 2019.01.01 PWM Edition is not going to process any orders placed in internet shop by individual customers from countries other than Poland. Please find your local distributor on the list, or order our sheet music through the Hal Leonard online shop: http://www.musicshopeurope.com http://www.halleonard.com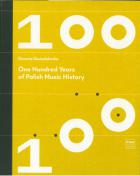 One hundred Years of Polish Music History
Countries of delivery:

Cat. no. 20775

ISBN ISSN: 978-83-224-5019-2
Danuta Gwizdalanka's 'One Hundred Years of Polish Music History' is a fascinating journey through the last hundred years in Polish musical culture. In this book, written in a vivid and highly expressive style, the author highlights the most important historical events that influenced the work of Polish composers from 1918 to 2018. She leads the reader through the meanders of aesthetic currents, points out stylistic contexts and discusses compositions, evoking often forgotten facts and anecdotes. She both peruses the past and looks to the musical future. And she begins her account with the piano, an instrument inextricably associated with Poland...
You can buy this book here
Language of edition: eng
Cover: szwajcarska
No. of edition: 1
Published: 2019
Type: books
Size: A5 vertical (145x205 mm)
4,99 EUR
Suggested retail price.


Other titles in the series
Other author's publications