Beginning from 2019.01.01 PWM Edition is not going to process any orders placed in internet shop by individual customers from countries other than Poland. Please find your local distributor on the list, or order our sheet music through the Hal Leonard online shop: http://www.musicshopeurope.com http://www.halleonard.com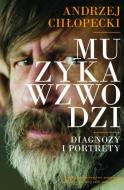 Erecting Music
Diagnosis and Portraits
Countries of delivery:

Cat. no. 20743

ISBN ISSN: 978-83-224-0976-3
"Muzyka wzwodzi" (Erecting Music) is a second book of brilliant essays written by Andrzej Chłopecki, a renowned musicologist, music theorist and critic. Chłopecki's texts were his live reaction to the events connected with modern music. Although written several years ago, they are invaluable even now. Accurate, often sharp, ironic comments still provoke reflection of experts and laymen alike. Many readers of e.g. "Gazeta Wyborcza" daily, "Tygodnik Powszechny" weekly or "Ruch Muzyczny" monthly magazines would eagerly wait for his successive essays. Some would carefully maintain a scrapbook of newspaper clippings, to be able to return to these excellent explanations of musical phenomena. "Muzyka wzwodzi" will provide such an opportunity to a wider group of recipients who are interested in Chłopecki's view on e.g. the music of Wojciech Kilar, Paweł Mykietyn or Piotr Rubik.
Language of edition: pol
Number of pages: 520
Cover: softcover
Published: 2014
Type: books
Size: B5 vertical (175 x 245 mm)
20,00 EUR
Suggested retail price.


Other author's publications