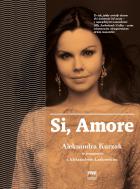 Si, Amore.
Conversations with Aleksandra Kurzak
Countries of delivery:

Cat. no. 20726

ISBN ISSN: 978-83-224-0960-2
"Si, Amore" is a collection of talks that Aleksander Laskowski had with Aleksandra Kurzak, the most famous Polish opera singer. The talks, which were conducted for several months, gave a new portrait of Kurzak, not only as an admired world-class opera diva with a truly unique voice, but also as a sensual woman favouring happy family life. The stories of the famous soprano allow the reader to look behind the scenes of the greatest opera performances, to learn the secrets of a singer and actor's workshop and to get on the stage of the most important opera houses in the world: Metropolitan Opera, Covent Garden, La Scala or Teatro Real. Aleksandra Kurzak also shares a bit of her private life, talking about her experience as a mother and about family relations (her parents are also famous musicians and her mother, Jolanta Żmurko, appears as quest in the interviews), and about her love to Roberto Alagni, great tenor, her partner on stage and in life and the father of their daughter Malèna.

The title of the book, "Si, Amore", is not only words that Aleksandra Kurzak says to Roberto, answering his occasional calls and interrupting the talks with Aleksander Laskowski, but also a great summary of her affirming and loving attitude to life.
Series: Opera
Language of edition: pol
Number of pages: 200
Cover: hardcover
No. of edition: 1
Published: 2015
Type: books