Beginning from 2019.01.01 PWM Edition is not going to process any orders placed in internet shop by individual customers from countries other than Poland. Please find your local distributor on the list, or order our sheet music through the Hal Leonard online shop: http://www.musicshopeurope.com http://www.halleonard.com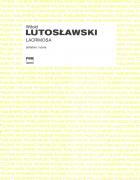 Lacrimosa
for Soprano, Mixed Choir and Orchestra
Countries of delivery:

Lacrimosa for Soprano, Choir and Orchestra was created in 1937 as a part of a planned Requiem which was supposed to be Witold Lutosławski's thesis. He abandoned this thought quickly, and from the two remaining fragments (Requiem Aeternam and Lacrimosa) only Lacrimosa managed to survive through the war storm. It was composed according to the A-B-A scheme and in its musical sound it awakens clear associations with the later creativity of Szymanowski, particularly Stabat Mater: the a-minor key is dirtied with modalism through the appearance of the clear G-major triad on the 7th scale degree, the dominant is often minor. In the middle part the solo melody of the soprano is based on the homophonic texture of choir in which one can observe references to Romanticism and French influences, particularly Fauré's Requiem. The final Amen, sung and played by all the performers, closes the opus with an impressive phrase, dying in piano. The audience got to know both fragments of Requiem in the autumn of 1938. Just after the war, Polskie Wydawnictwo Muzyczne (PWM Edition) published Lacrimosa in a version for Voice and Organs and this specific arrangement was revived at the beginning of the 1980s, being frequently performed in Polish churches during the Martial Law period. The idea of a requiem, which as he said - every composer was writing for his funeral accompanied Lutosławski for a long time. He still thought about it in the 1970s, and because the traditional liturgical text as a whole didn't suit him, he consulted his cousin, a Benedictine, father Karol Meissner, a grandson of Wincenty Lutosławski, about possible changes. However, he never realised this idea. The music of Lacrimosa was to accompany him during his last journey in the cemetery chapel at Powązki. [Krzysztof Meyer]
Language of edition: eng, pol
Language of text: lat
Number of pages: 12
Cover: softcover
Type: score
Size: N4 vertical (235x305 mm)
10,00 EUR
Suggested retail price.


Other author's publications
Voice(s), choir, orchestra (part.)