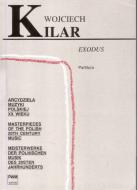 Exodus
for Mixed Choir and Orchestra
Countries of delivery:

Cat. no. 8597

ISBN ISSN: 83-224-0638-X
''The title refers to the Biblical Book of Exodus. The biblical words of the song: we will sing unto Yahwe, for He has triumphed gloriously;...'', which the people of Israel chant after passing through the Red Sea serve as the motto of the composition. The formal concept of the piece refers to M. Ravels ''Bolero''. The composer has confirmed in his statements that this reference is fully intentional. ''Exodus'' would be the third - after Ravel and Shostakovich (Symphony No.7) - version of a fascinating crescendo of form, based on one theme or idea obsessively repeated. Its first performance at the Warsaw Autumn Festival in 1981 provoked a tremendous ovation. The audience, at first confused by the continual repetition of the E-major chord (bursts laughter were even heard), was eventually abducted by the force and dynamism of the composition.
Language of edition: eng, ger, pol
Language of text: lat
Number of pages: 96
Cover: softcover
No. of edition: 3
Published: 2000
Type: score
Size: A4 vertical (210x297 mm)