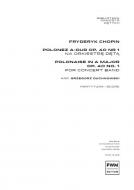 Polonaise in A major op. 40 no. 1 (pdf sheet)
for concert band
Countries of delivery:

The orchestration for wind instruments of Fryderyk Chopin's Polonaise in A major has undoubtedly lent the work a new dimension. The big, powerful chords of the original inspired Grzegorz Duchnowski to create a particularly grandiose arrangement, helped by the orchestral forces, which include such instruments as tubular bells, timpani and tam-tam, enhancing the grandeur of this courtly dance.
INSTRUMENTS

Flute Piccolo – Fl. Picc.
2 Flutes – Fl.
Oboe – Ob.
Bassoon – Bsn.
Clarinet in Eb – Eb Cl.
3 Clarinets in Bb – Cl.
Bass Clarinet in Bb – B. Cl.
2 Alto Saxophones – A. Sax.
Tenor Saxophone – T. Sax.
Baritone Saxophone – B. Sax.

3 Horns in F – Hn.
4 Trumpets in Bb – Tr.
4 Trombones – Tbn.
2 Tenor Horns – t. Hn.
Euphonium – Euph.
2 Tubas – Tb.

Tubular Bells – Tub. B.
Timpani – TimP.

Snare Drum – s.D.
Cymbals – Cymb.
Tam-tam – Tam-t.
Bass Drum – B.D.
Also available:

concert set (score and parts)
score
Series: Concert Bands Library
Language of edition: eng, pol
Number of pages: 113
No. of edition: 1
Published: 2019
Type: score and parts, on-line, enotes
Size: PDF
Other titles in the series
Other author's publications