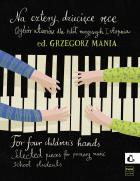 For four children's hands
Selected piano pieces for primary music school students
Countries of delivery:

The idea for this collection stems from a deep belief that a piano duet should be an essential part of pianistic education from its very beginnings. Playing four hands not only helps to develop technical skills and general musicality, but it is also encouraging for students as it reduces stage-fright and is simply fun. Moreover, playing together is a great opportunity to read more music, which is essential for developing sight-reading skills. It is therefore not suprising that piano four hands – either for a student and teacher or two students – are included in almost every significant piano school. (...)
The are two reasons why this collection only includes compostions for four hands. Such a chamber formation creates, in my opinion, the closest relation between the partners – by sharing the same keyboard and, literally, each musical breath, the students can experience the music together in a much deeper way than playing, for example, on two pianos. The other reason is purely logistical – it is far easier to rehearse and play concerts when only one piano is needed. (...)
The collection comes with a CD that contains most of the pieces recorded by professional pianists. Its purpose is not only to present the pieces (as it is often hard to catch the overall idea of a composition by playing it alone), but also to show different ways of interpretation and space for artistic freedom.
Series: Children Series: Cat
ISMN 979-0-2740-2462-8
Language of edition: eng, pol
Number of pages: 116
Cover: softcover
No. of edition: 1
Published: 2019
Type: music sheets with CD
Size: N4 vertical (235x305 mm)
Table of contents:
| | |
| --- | --- |
| Adolf Jensen | Abendmusik op. 59 nr 1 |
| Ignacy Jan Paderewski | Album Tatrzańskie op. 12 nr 1 |
| Janina Garścia | Bęben op. 37 |
| Cornelius Gurlitt | Capricietta |
| Carl Reinecke | Cicha noc, święta noc |
| Eduard Putz | Come here and play |
| Cornelius Gurlitt | Der anfanger |
| Cornelius Gurlitt | Erholungsstunden |
| Henri Bertini | Etiuda e-moll op. 97 nr 22 |
| Carl Reinecke | Humoreske op. 130 nr 4 |
| Peter Eben | Jeste ja se podivam |
| Jurgen Moser | Just for fun |
| Maurycy Moszkowski | Kinder Marsch op. 33 nr 1 |
| Irena Garztecka | Kolej |
| Friedrich Kiel | Ländler op. 74 nr 6 |
| Carl Reinecke | Liebesgluck |
| Jerzy Lefeld | Marsz |
| Romuald Twardowski | Ragtime |
| Robert Schumann | Reigen op. 85 nr 8 |
| Henry Lemoine | Rondo brillant G-dur |
| Henri Bertini | Sonata A-dur op. 149 nr 6 |
| Friedrich Kuhlau | Sonatina F-dur op. 17, cz. I |
| Friedrich Kuhlau | Sonatina F-dur op. 17, cz. II |
| Anton Diabelli | Sonatina op. 163 nr 5 |
| Friedrich Kiel | Sonatina op. 6 nr 1, cz. I |
| Emil Hradecky | Tango |
| Cornelius Gurlitt | Valse noble |
| Friedrich Kuhlau | Walc Es-dur op. 28 nr 2 |
| Friedrich Kuhlau | Walc g-moll op. 24 nr 2 |