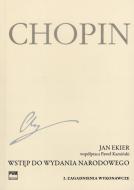 Introduction to the National Edition of the Works of Fryderyk Chopin
vol. 2 Performance Issues
Countries of delivery:

Cat. no. 20717

ISBN ISSN: 978-83-224-0952-7
Part II of the Introduction, entitled Performance Issues, aims to indicate those elements of the musical text that may raise doubts as to their proper reading or understanding. In other words, it is meant to answer the question of how Chopin himself understood his musical notation and how he rendered it.
It covers all the basic issues of pianistic rendition:
- Sound space (the range of Chopins piano)
- Sound properties (dynamics, articulation, accents, etc.)
- Timing issues (tempo, metronome tempo, tempo rubato)
- Formal issues (cyclical nature, repetisions)
- purely pianistic issues (fingering and pedaling)
- aspects of expression and semantics.
Language of edition: pol
Number of pages: 144
Cover: softcover
No. of edition: 1
Published: 2012
Type: books
Size: B5 vertical (175 x 245 mm)
Other author's publications