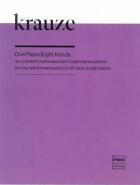 One Piano Eight Hands
for four performers and out-of-tune upright piano
Commentary
 
The piano should be arranged on the stage in such a way that the performers play with their backs to the audience.
 
Each of the performers executes the same part, but it is played in different registers. The registers are given on page 5 herein.
 
The parts should be performed independently, unsynchronised. The delay (desynchronisation) between the parts should not exceed a minim. Each section is followed by a ten-second rest, during which the performers remain perfectly still. During the rests, the piano's pedal remains depressed. 
ISMN 979-0-2740-2572-4
Type: instrumental solo
Other author's publications