Beginning from 2019.01.01 PWM Edition is not going to process any orders placed in internet shop by individual customers from countries other than Poland. Please find your local distributor on the list, or order our sheet music through the Hal Leonard online shop: http://www.musicshopeurope.com http://www.halleonard.com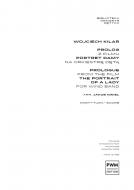 Prologue from the film "The portrail od a lady"
for wind band
Countries of delivery:

Flutes I, II – Fl.
Clarinets I, II, III, IV in Bb – Cl.
Alto Saxophones I, II – A. Sax.
Tenor Saxophones I, II – T. Sax.
Baritone Saxophone – B. Sax.
Trumpets I, II in Bb – Tr.
Horns I, II in F – Hn.
Tenor Horns I, II – T. Hn.
Baritone Horns I, II – B. Hn.
Trombones I, II, III – Tbn.
Tuba – Tb.
Bass – Bass

Suggested retail price.


e-publication