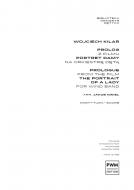 Prologue from the film "The portrail od a lady"
for wind band
Countries of delivery:

A popular, sentimental-nostalgic motif from the film The Portrait of a Lady arranged by Jakub Nikiel. The theme is played first by two trumpets, and then by two flutes with a swinging saxhorns accompaniment. This work is available in concert form. Other parts of the Suite are also on sale.
Flutes I, II – Fl.
Clarinets I, II, III, IV in Bb – Cl.
Alto Saxophones I, II – A. Sax.
Tenor Saxophones I, II – T. Sax.
Baritone Saxophone – B. Sax.
Trumpets I, II in Bb – Tr.
Horns I, II in F – Hn.
Tenor Horns I, II – T. Hn.
Baritone Horns I, II – B. Hn.
Trombones I, II, III – Tbn.
Tuba – Tb.
Bass – Bass
17,50 EUR
35,00 EUR
e-publication