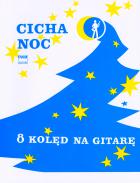 Silent Night
8 Christmas Carols in Easy Arrangement for Voice with Guitar and for Classical Guitar
Countries of delivery:

Cat. no. 9112

ISBN ISSN: 83-224-2959-2
The present book of Christmas carols is intended for those beginning to learn the guitar: pupils of primary music schools, music centres and for self-instruction. In this collection each Christmas carol has been prepared in three ways: words with functions, for voice and guitar and for classical guitar (a more difficult version requiring work with the teacher). For didactic reasons the harmonisation is based on the principal functions. A table of guitar chords, placed on the inner side of the jacket-flap, contains only the chords used in this collection. 
Language of edition: pol
Number of pages: 20
Cover: softcover
Size: N4 vertical (235x305 mm)
Table of contents:
| | |
| --- | --- |
| Bańdo Anna (ed.) | Cicha noc |
| Bańdo Anna (ed.) | Gdy śliczna Panna |
| Bańdo Anna (ed.) | Jezus malusieńki |
| Bańdo Anna (ed.) | Lulajże Jezuniu |
| Bańdo Anna (ed.) | Pójdźmy wszyscy do stajenki |
| Bańdo Anna (ed.) | Przybieżeli do Betlejem pasterze |
| Bańdo Anna (ed.) | W żłobie leży |
| Bańdo Anna (ed.) | Wśród nocnej ciszy |