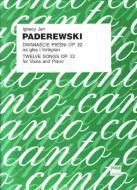 Twelve Songs Op. 22
for Voice and Piano
Countries of delivery:

Cat. no. 8857

ISBN ISSN: M-2740-0043-1
''The Songs to words by Catulle Mendes, Op. 22, do not resemble Paderewskis earlier vocal composition at all, such as Songs to words by Adam Asnyk, Op. 7, or Songs to words by Adam Mickiewicz, Op. 18, these works being a little ''Moniuszko-like'', very Polish, with a simple, diatonic accompaniment. In the Op. 22 Songs, Paderewski approached French compositional styles, and perhaps for the first time in Polish music, before Szymanowski and Eugeniusz Morawski, he consciously drew on the patterns of the ''Paris'' tradition, increasingly frequently used in contemporary European music. The Op. 22 Songs are, as it were, 'symphonised'' poems with a vocal part. The composer, sensitive to poetical nuances, deepens, enlarges and sublimates the expression of the word, which vibrates melodically, ''falls into'' the prepared harmonic course and explains it. Paderewski enriched Mendess dark poetic images with colours sometimes brighter and lighter, at the same time using an extensive gamut of harmonic means in the piano part; among them we find chromaticisms absent in the earlier songs, a chorale sound (La nonne, Le ciel est tres-bas), fourth-fifth chords in a favourite fourth-second arrangement (Dans la foret), seventh-second chords and chords with major seventh as well as self-evident sound symbols: ''glassy'' being reflected in the cold sound of arpeggiated chords of the augmented triad in the song Lune froide, while a repeated and melodically accented interval of the tritone is a sign of emptiness in the song Viduité. The piano part, e.g. in the song Dans la foret brings to mind the present-day cluster technique, manifested in the stratification of chords consisting of up to eight-note diatonic cluster (bars 20-22). Paderewski employs intensification of the chord components even in the lowest piano octave, in spite of the aliquot character of the sound and the principle of instrumentation resulting from it, and he employs a four-note chord in a close harmony of two second chords placed at the distance of a fourth (La nonne, bars 53, 55, 57, 59, 76, 78). The expressive force of the Songs to words by Mendes is evident also in all sorts of metrorhythmic (bold changes of the metre, fairly frequent accentuation on weak beats) and dynamic tensions as well as in the original colouring and nuances of the vocal part.
Series: Canto
Language of edition: eng, pol
Language of text: fre
Number of pages: 84
Cover: softcover
No. of edition: 2
Published: 2003
Type: solo part (vocal) + accompaniment
Size: N4 vertical (235x305 mm)
Table of contents:
| | |
| --- | --- |
| Paderewski Ignacy Jan | Dans la forét |
| Paderewski Ignacy Jan | Elle marche d'un pas distrait |
| Paderewski Ignacy Jan | L'amour fatal |
| Paderewski Ignacy Jan | L'ennemie |
| Paderewski Ignacy Jan | La nonne |
| Paderewski Ignacy Jan | Le ciel est trés bas |
| Paderewski Ignacy Jan | Lune froide |
| Paderewski Ignacy Jan | Naguére |
| Paderewski Ignacy Jan | Querelleuse |
| Paderewski Ignacy Jan | Ton coeur est d'or pur |
| Paderewski Ignacy Jan | Un jeune pátre |
| Paderewski Ignacy Jan | Viduité |
Other titles in the series
Other author's publications