Roman Maciejewski's "Missa pro defunctis" in London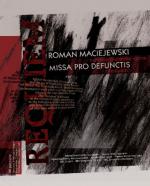 2010-01-15
The British premiere of Roman Maciejewski's monumental Requiem will without doubt be the biggest event in the Polska!Year in Great Britain and the strongest Polish musical accent abroad in many years.
Broadcast on BBC Radio 3 on 2 March 2010 at 2 p.m.
The Requiem will be heard in Westminster Cathedral performed by the Choir and Orchestra of the BBC conducted by Michał Dworzyński. The solo parts will be sung by Iwona Hossa, Agnieszka Rehlis, Ales Briscein and Tomasz Konieczny. It is difficult to imagine a better birthday present for the celebration of the composer's 100th birthday, if he were still alive.
Roman Maciejewski was born on the 28th of February, 1910 in Berlin, and died 30th April 1998 in Göteborg. He spent the majority of his life abroad – in France, Great Britain, Sweden and the USA. He left behind him pieces for piano, orchestra, chanber music, choral music and ballet and theatre music. The 130-minute Missa pro defunctis, which he took 15 years to write, is his Opus magnum. "Under the overwhelming impression of the immensity of human suffering and the oceans of bloodshed, at the end of World War II I decided compose a work that would be one of the many contributions to the preservation in human consciousness of the conviction of the tragic nonsense of war", wrote the composer. "The Requiem is dedicated to the victims of human ignorance, in the first row, to the memory of those fallen in the wars of all time."
After the American first performance in 1971 in Los Angeles given by the Los Angeles Master Chorale and Sinfonia Orchestra conducted by Roger Wagner, the 'Los Angeles Times' wrote: "When the climatic Amen chorus finally subsided — and Wagner engulfed the frail composer in a bear hug, no one was sitting. [...] One has to admire the com­poser's courage and persistence in attacking so enormous a chal­lenge. One would have to harbor a heart of ice not to notice his ethereal lyric flights, his splashily effective climaxes or his con­trapuntal flair". Will the London public experience similar emotions on 4th February? To find out, we look forward to this event with anticipation.