Great success of Mirecki's "Symphony"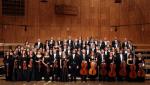 2010-01-27
Loud applause ended Sunday's concert in the Witold Lutoslawski Studio S-1 in Warsaw during which the Polish Radio Symphony Orchestra (PRSO) conducted by Paweł Przytocki performed Franciszek Mirecki's
Symphony in C minor
. The concert was broadcast by Polish Radio Programme II.
This nearly forty-minute symphony by the composer from the turn of the eighteenth and early nineteenth centuries, composed at the latest in 1855, is proof there remain many still unknown and underrated Polish works from this period; the last concert presentation of this work took place nearly 20 years ago! Therefore the director of POR, Łukasz Borowicz, conductor Paweł Przytocki, and Maciej Negrey, researcher of Polish music of the XIX century are to be praised for collectively working towards the performance of this unique and superbly composed Symphony. Applause is due to the Polish Radio Symphony Orchestra who played fantastically that evening, with a wonderful sound, fresh interpretation and riveting solos, especially the wind section.
Franciszek Mirecki was born in Krakow in 1791 as the son of an organist in the St Mary's church. In 1814, after completing his studies in philology at Warsaw University, he moved to Vienna where he studied piano with John Nepomuk Hummel. In 1838 he returned to Krakow and opened his own school of opera singing. He died in 1862, leaving behind - in addition to this monumental Symphony - operas, songs, chamber and solo works.
Interestingly, the Symphony in C minor, written for Mannheim, was to have been published in Milan. However, the piece was eventually released by PWM in 1972 (as were other compositions by Mirecki - the Sonata in A minor and Sonata in B flat major).
Paweł Przytocki, director of the Karol Szymanowski Krakow Philharmonic, has already planned a presentation of Mirecki's Symphony in Krakow on the 28th and 29th of May. We invite all music lovers to listen to this piece!