"Golden Rose" for professor Mieczysław Tomaszewski for the album "Chopin"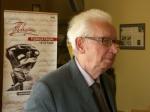 2010-09-17
Ladies and Gentlemen,
We are pleased to inform you that prof. Mieczysław Tomaszewski has been awarded the "Golden Rose" - a prize for the best popular science book from the last publishing season - for the album "Chopin". The jury noted that the author wrote an exceptionally competent biography, colourful, lively, grabbing the attention and affection of readers, that it presented a very interesting picture of a modern era composer, and that he wrote about the music itself in a transparent manner, speaking to the imagination of readers who love music but do not always understand its coded language.
The jury also took into account the unique editorial characteristics of the book: clever and careful selection of graphic design and illustrative composition. The "Science Festival" initiative and the magazine "Nowe Książki" gave the award for the fourth time. It is funded by Festiwal Nauki (Science Festival) and the Instytut Książki (Book Institute). The award will be presented on Saturday, September 18 at 6pm at the Old Auditorium of the Warsaw University Library - UW. ul. Krakowskie Przedmieście 26/28 at the start of the Festival. You are cordially invited.