FOCUS! Festival - Polish Music in New York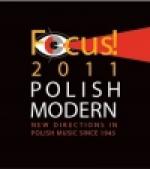 2011-01-18
A huge festival of Polish music starts this Saturday in New York
 Festival Polish Modern: New Directions in Polish Music Since 1945

A huge festival of Polish music begins this Saturday in New York.

Juilliard in collaboration with the Polish Cultural Institute in New York presents  FOCUS! Festival Polish Modern: New Directions in Polish Music Since 1945. The composers presented on the FOCUS! festival represent several generations and a broad range of styles from Krysztof Penderecki, Boguslaw Schaeffer, Kazimierz Serocki and others born before the mid-1930s; to composers including Krysztof Knittel, Aleksander Lason, Marian Sawa, and Stanislaw Moryto from the 1940s; to Pawel Szymanski, Tadeusz Wielecki, and those born ten years later; and Pawel Mykietyn, Aleksandra Gryka, Wojciech Zimowit Zych, and the 1970s generation.  The festival opens with the New Juilliard Ensemble, conducted by founder Joel Sachs, performing works by Grazyna Bacewicz, Wojciech Kilar, Zygmunt Krauze, Elzbieta Sikora, and Tadeusz Wielecki. The closing concert, performed by the Juilliard Orchestra and led by conductor Jeffrey Milarsky, features a musical Portrait of Witold Lutoslawski, one of the 20th centurys major composers. The program includes Lutoslawskis Overture for Strings, Concerto for Cello and Orchestra, Partita for Violin and Orchestra, and the Symphony No. 4.  On Monday, January 24 through Thursday, January 27, the FOCUS! festival presents four concerts of chamber and solo works by contemporary Polish composers, performed by Juilliard students at the Schools Paul Hall. Other highlights of the festival include a film screening and a panel discussion about contemporary music in Poland with editor-in-chief of the Polish Music Publishing House and program director of the Polish Music Festival, Andrzej Kosowski; president of the Polish Composers Union, Jerzy Kornowicz; composer Elzbieta Sikora; and director of the Warsaw Autumn Festival, Tadeusz Wielecki, moderated by Joel Sachs.

Programme:
Saturday, January 22, 8:00 PM
Alice Tully Hall
New Juilliard Ensemble
Joel Sachs, founding director and conductor
Grażyna Bacewicz, Contradizione (1966)
Tadeusz Wielecki, The Time of Stones (2002)
Wojciech Kilar, Choral Prelude (1988)
Zygmunt Krauze, Terra Incognita (1994)
Elżbieta Sikora, Canzona (1995)
Monday, January 24, 8:00 PM
Paul Recital Hall
Krzysztof Penderecki, Capriccio, for cello (1966)
Tomasz Sikorski, Euphonia, for piano (1982)
Kazimierz Serocki, Swinging Music, for clarinet, double bass, trombone, and piano (1970)
Marian Sawa, Ecce Lignum Crucis, for organ (1986)
Agata Zubel, Piece TBD
Wojciech Blażejczyk, Interlunium, for guitar (2007)
Marta Ptaszynska, Mancala, for two violins (1997)
Marek Stachowski, Musica Festeggiante, for string quartet (1995)
Tuesday, January 25, 7:00 PM
Panel discussion with composers Zygmunt Krauze and Elzbieta Sikora, Warsaw Autumn Festival director Tadeusz Wielecki, Editor-in-Chief of the Polish Music Publishing House and programme director of the Polish Music Festival Andrzej Kosowski, and composer of electronic music Lukasz Szalankiewicz. The panel will be moderated by Joel Sachs.
Tuesday, January 25, 8:00 PM
Paul Recital Hall
Paweł Mykietyn, Sonata for Cello (2006)
Hanna Kulenty, Music for Brass No. 3 OR NO. 4 TBD (19   )
Aleksander Lasoń, String Quartet No.7 (2007)
Paweł Szymański, Through the Looking Glass III, for harpsichord (1994)
Marcel Chyrzyński, ForMS, for cello (2001)
Jakub Ciupiński, Edo, for violin and electronic sounds (2010)
Witold Szalonek, Toccata and Chorale, for organ (1988)
Wednesday, January 26, 8:00 PM
Paul Recital Hall
Andrzej Krzanowski, Relief V, for cello (1986)
Kazimierz Serocki, A piacere, for piano (1962-63)
Aleksandra Gryka, Piece TBD
Aleksander Nowak, Piece TBD
Henryk Mikołaj Górecki, String Quartet No. 1, "Already it is Dusk" (1986)
Bogusław Schaeffer, Sonata IV, "Winter," from The Four Seasons, for organ (1986)
Thursday, January 27, 7:00 PM
Paul Recital Hall
Electronic Music and Film: a Brief View
Krzysztof Knittel, The Conqueror Worm (1976)
Another composer TBD
David Bickerstaff and Lukasz Szalankiewicz, Film: The Henge: In Search of the Nazi Bell (2010)
8:00 PM
Eugeniusz Knapik, Filo d'Arianna, for cello (2005)
Joanna Bruzdowicz, Erotiques, for piano (1966)
Tadeusz Baird, Play, for string quartet (1971)
Stanisław Moryto, Five Songs on texts by Elias Rajzman, for mezzo-soprano and piano (2002 )
Wojciech Ziemowit Zych, Selections from Homage a Gyorgy Kurtag, for violin and bass clarinet (2005)
Jerzy Kornowicz, The Shapes of the Elements, for harpsichord and tape (2000)
Augustyn Bloch, Geige und Orgel, for violin and organ (1988)
Friday, January 28, 8:00 PM
Alice Tully Hall
A Portrait of Witold Lutosławski
Juilliard Orchestra
Jeffrey Milarsky, conductor
Overture for Strings (1949)
Concerto for Cello and Orchestra (1970)
Partita (1988)
Symphony no. 4 (1988-92)
more about Festival: http://www.polishculture-nyc.org/