IX Edition Of The Tadeusz Ochlewski Competition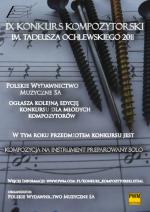 2011-05-09
Polskie Wydawnictwo Muzyczne SA announces the IX Tadeusz Ochlewski Composers' Competition. The subect of the competition for the year 2011 is an original composition for prepared solo instrument. The Tadeusz Ochlewski Composers' Competition for young artists was established in 2002 by Polskie Wydawnictwo Muzyczne SA in Kraków as a side activity promoting Polish compositional art.
Tadeusz Ochlewski, a PWM writer and great friend of young composers, was adopted as patron of the competition.
Rules and submission guidelines can be downloaded at: http://www.pwm.com.pl/konkurs_kompozytorski.html
Deadline for entries is 31st July 2011, by postmark.