1st Henryk Mikołaj Górecki International Festival of Contemporary Music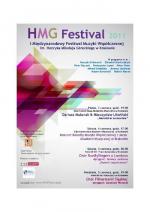 2011-05-31
The 1st Henryk Mikołaj Górecki International Festival of Contemporary Music will be held in Krakow from June 3-5. Admission to all concerts is free. Polish and world music by contemporary composers will be performed at the festival, with particular emphasis on works by Henryk Mikołaj Górecki.
The concerts will be held in old settings, historically associated with Krakow, including: the Franciscan Basilica, St. Catherine's Church and the Concert Hall and Chamber Hall of the Music Academy in Krakow.
During the Festival we will hear performances of works by such artists as Žibuokle Martinaityte, Peteris Vasks, Alfred Schnitke, Mauro Bortolotti, Robert Moran, Ayane Yamanaka, and Polish: Henryk Mikołaj Górecki, Piotr Ślęczek, Aleksander Lasoń.