Concert "In Memoriam Henryk Mikołaj Górecki"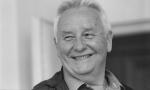 2011-10-25
The Polish Cultural Institute In New York and (Le) Poisson Rouge present "In Memoriam Henryk Mikołaj Górecki", a free and open to the public memorial concert honoring the Polish composer on the first anniversary of his death. The all-Górecki program will be performed by internationally acclaimed ensembles, Ensemble Signal, led by Music Director and Conductor Brad Lubman, and the Jack Quartet.
Although Górecki was known most especially for his immensely popular Symphony No3, "Symphony of Sorrowful Songs", this concerts showcases extraordinary chamber Works from his later compositional period.
"Kleines Requiem" offers an enigmatic momerial mass; "polka" can refer to a Polish girl or woman, as well as the Central European dance, and the cryptic Górecki never explicitly stated his intent. The work, in four movements, does not seem to contain and dancing levity, but is instead somber, manic, and starkly beautiful.
The Second Quartet, Quasi una Fantasia, invokes Beethoven, whose piano sonatas and strong quartets influenced Górecki in the compositional structure of his first two quartets. In Quasi una Fantasia, Górecki employs three major "Beethovian" triads which appear throughout the work, leading to the folk-influenced last movement, and a final return to the solemn opening statement.
In both these works, Górecki's persistent, uncompromising communion with his artistic vision is paramount. Taken together, and performed by two truly vanguard ensembles of the new music scene, this program offers a personal, finely etched portrait of a great artist.
A free, all-Górecki concert - Tuesday Novemeber 8, 2011, 7:30 pm performance at (le) Poisson Rouge in New York.