12 November - First Anniversary of the Death of Henryk Mikołaj Górecki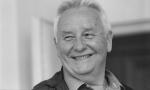 2011-11-10
The first anniversary of the death of one of the greatest composers of the twentieth century - Henryk Mikołaj Górecki falls on Saturday, November 12. Numerous concerts and festivals organized by Polish associations, orchestras and concert halls as well as interviews and broadcasts of concerts on TVP Kultura are only part of the anniversary celebrations in memory of the Artist. One of the most important events connected with the anniversary of the composer's death will be the ceremony during which the the Silesian Philharmonic in Katowice formally takes his name, to be held on November 14 in Katowice. More information about this event can be read at this link.
The coming days will also be an opportunity for Polish orchestras and concert halls to remind us of his outstanding achievements, including the "Third Symphony", "Ad Matrem" and "Old Polish Music." 14 November, as part of the Silesian Composers' Tribune, the Orkiestra Muzyki Nowej under Szymon Bywalec's baton will perform three of the composer's pieces.
On TVP Kultura, the month of November has been declared Henryk Mikołaj Górecki Month - 12.11 you can watch a documentary film about the artist called "Self-Portrait" and listen and watch performances of the pieces: Harpsichord Concerto and Beatus vir.
Also, on November 12 in the Krystyna Bochenek Cultural Centre in Katowice, a concert will be held in memory of H.M. Górecki. Details of the concert are available here. During the concert our exhibition HENRYK MIKOŁAJ GÓRECKI ARTYSTA – CZŁOWIEK SZCZĘŚLIWY will be presented.
In addition, Polskie Wydawnictwo Muzyczne, with whom the composer was linked through  professional and cordial ties of friendship, has prepared a special edition of the PWM Encyclopedia of Music, entirely dedicated to the life and works of Górecki.