Premiere of Zygmunt Krauze's Opera "Pułapka" in the Wrocław Opera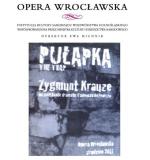 2011-12-06
Zygmunt Krauze's new one-act opera, "Pułapka", will be on the stage of Wrocław Opera already on 17 December 2011. The work, staged by Ewelina Piotrowiak, will be led by Tomasz Szreder, with Mariusz Godlewski (baritone) starring in the main role. This premiere will certainly be a great culmination to the celebrations of Tadeusz Różewicz's 90th birthday.
The 100 - minute work consists of fourteen pitcures.The libretto was prepared by the composer in cooperation with Grzegorz Jarzyna and is based on the famous drama. As Jacek Marczyński writes ("Rzeczpospolita"), "Zygmunt Krauze had the idea of composing an opera based on one of the most important plays by Tadeusz Różewicz in 2006 after seeing "Pułapka" at the Kontakt festival in Toruń. It was a Hungarian presentation directed by Péter Gothár." "It made a great impression on me. I realized that this was a phenomenal subject for an opera. What's more, I already knew how I should do it," the composer said. There was still the problem of obtaining the author's consent. Zygmunt Krauze met Tadeusz Różewicz in 1999 during the Fundacja Kultury awards ceremony when the poet received his prize. The evening at the Royal Castle was graced with a performance of five of Krauze's songs to poems by the laureate, who regarded the musical version of his poetry with great appreciation. A few years after the "Pułapka" opera proposal he waited a few months with the answer, but in the end the composer received a green light. "I informed director Ewa Michnik about this," says Zygmunt Krauze, "She immediately took up the idea."
The main roles in the opera are prepared by a double cast (Łukasz Rosiak – Franz, Barbara Bagińska and Elżbieta Kaczmarzyk-Janczak – mother). Additionally performing in the opera:
Father – Wiktor Gorelikow
Otla – Aleksandra Kubas
Max – Jacek Jaskuła
Felicja – Joanna Moskowicz
Greta – Katarzyna Haras
Józia/Cobbler's wife – Dorota Dutkowska
Cobbler – Edward Kulczyk, Rafał Majzner
Elli – Joanna Marszałek
Valli – Małgorzata Węgrzyn-Krzyżosiak
Hairdresser – Tomasz Rudnicki
Juvenile – Bolesław Słowiński
Man – Jerzy Szlachcic
Jana Słowik – chorister
Little ghost/Franz child – 2 boys  
Costumes prepared by Małgorzata Słoniowska, choreography – Bożena Klimczak. Wrocław Opera Choir prepared by Anna Grabowska-Borys.