Paweł Mykietyn's Symphony III Performed by Jadwiga Rappe and the AUKSO Orchestra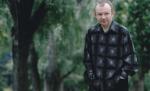 2011-12-12
Paweł Mykietyn's Symphony III is a five-movement work inspired by hip-hop, rock and club music and will be heard on Saturday, December 17, 2011 at 7pm in the Witold Lutosławski Concert Studio of Polish Radio. It will be performed by the AUKSO chamber orchestra conducted by Marek Moś. As with the premiere of the work on July 1, 2011, on the occasion of the inauguration of the Polish Presidency, the alto solo will be the great singer - Jadwiga Rappe.
Symphony III is an experimental, 50-minute piece to words by Marek Kościukiewicz, dedicated to Michał Merczyński, director of the National Audiovisual Institute. It is the second of the composer's published symphonies and at the same time the latest of his works in this genre. It is a fascinating journey through words, sounds and images prepared by Denis Gauguin, guaranteeing a strong artistic experience.
The composer and Jadwiga Rappe spoke about the song - we invite you to listen!
Discussion with Jadwiga Rappe about Symphony III:
http://www.youtube.com/watch?v=YQ9SFFqFZW8

Discussion with the composer about the piece:
http://www.youtube.com/watch?v=3yiodowM-3I
The concert will be broadcast on Polish Radio channel two.