Diamond Baton for Tadeusz Strugała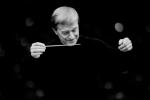 2011-12-13
The Board of Polish Radio have decided to honour Tadeusz Strugala with the prestigious music award, the Diamond Baton, in recognition of his activities as a conductor of particular importance for Polish musical life. The award will be presented on Sunday, December 18, 2011 in the Witold Lutosławski Concert Studio of Polish Radio. The Diamond Baton is a prize awarded to an indivudal "for outstanding artistic creation, popularisation of Polish music in the country and abroad, and reaching millions of listeners of Polish Radio". Previous laureates include Jan Krenz, Stefan Rachoń (1995), Stanisław Wisłocki (1997), Antoni Wit (1998), Krzysztof Penderecki (2003), Kazimierz Kord, Stefan Stuligrosz (2005), Jerzy Maksymiuk (2006), Jerzy Semkow (2008) and Stanisław Skrowaczewski (2009).
During the ceremony the Golden Microphones will also be awarded to people "whose commitment and creative excellence help to maintain high quality, develop and popularise public radio."
The ceremony will feature a concert by the Polish Radio Orchestra, who will perform Ludwig van Beethoven's Fourth Symphony in B flat major, Op. 60 and the Violin Concerto in D major, Op. 7 by Johannes Brahms under the direction of the laureat, Tadeusz Strugała. The young violinist Aleksandra Kuls, now a first-year student at the Music Academy in Kraków in the class of prof. Kaja Danczowska, winner of the Critics Jury Prize at this year's Henryk Wieniawski International Violin Competition in Poznan, will perform as soloist.