"Łańcuch IX" - The Lutosławski Festival in the 99th Anniversary of the Composer's Birth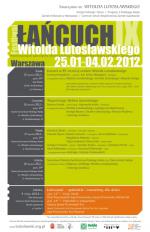 2012-01-17
From 25 January - 4 February 2012, the ninth edition of the "Łańcuch IX" festival, organized by the Witold Lutosławski Society, will take place in Warsaw The festival will feature four concerts: at the Royal Castle and the W. Lutosławski Polish Radio Concert Studio, during which the pieces "Symphonic Variations," "Interlude" and pieces by Andrzej and Grażyna Krzanowski, Henri Dutilleux, Magnus Lindberg, and many other composers, will be heard, as well as other pieces.
"Łańcuch IX" will take place just three months after the eighth edition of the Festival in October. As the organizers have said, "This accelerated organizational cycle of the event is dictated by our desire to permanently bind the date of the festival to the date of Witold Lutosławski's birth – and therefore the festival will be inaugurated on January 25, exactly on the 99th anniversary of the birth of the Patron of the festival."
During the inaugural concert Solveig Kringelborn together with Ivar Anton Waagaard will perform the song cycle "Chantefleurs et chantefables" for soprano and piano. In the second concert, called "Wspominając Stefana Jarocińskiego (Remembering Stefan Jarociński)" (on the hundredth anniversary of the birth of the excellent musicologist, and Witold Lutosławski's friend) cellist Bartosz Kozło and pianist Agnieszka Kozło will perform. On the third day of the festival Klaudiusz Baran – one of the most accomplished accordionists of the younger generation – and also the Opium Quartet, Grzegorz Krawiec (guitar), Jarosław Kutera (accordion), Alina Ratkowska (harpsichord) and tuba players Zdzisław Piernik and Krzysztof Żebrowski will perform Andrzej Krzanowski's "Ode for solo accordion", "Sonata per taba sola", "Wiatr echo niesie po polanie" for accordion and amplified harpsichord, "Relief VI" for amplified bass accordion, "String Quartet III" and "Sonata for Guitar" and "Rapsody for solo accordion" by Grażyna and Andrzej Krzanowski.
In the final concert of the festival the artists of the National Symphony Orchestra of Polish Radio, under the baton of French conductor Pierre-André Valade, will perform "Interlude" and "Symphonic Variations" by Witold Lutosławski, amongst other pieces.
In addition, for the second time, the organizers have prepared something for younger listeners. On February 4, 2012 the Educational Hall of the Ujazdowski Castle Centre for Contemporary Art will feature two musical workshop-performances: "Kusy Janek" and "Podwórko z Mazurkami". 
You can find more information about the concerts being held as part of "Łańcuch IX" on the page http://www.lutoslawski.org.pl/