Nomination for the Sztorm Roku 2011 Award for Elżbieta Sikora and Anna Niewiedział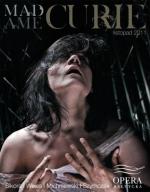 2012-01-19
Elżbieta Sikora, composer of the opera "Madame Curie", and Anna Mikołajczyk-Niewiedział, creator of the title role, have been nominated for the Sztorm Roku 2011 Award. In support of the poll nomination in the category of classical music, in the Gdańsk Gazeta Wyborcza we read: for Elżbieta Sikora's passionate and thoroughly contemporary music as well as Anna Mikołajczyk's phenomenal portrayal of a flesh-and-blood Maria Skłodowska-Curie in the opera "Madame Curie" in the Baltic Opera.
You can vote by sending an SMS with the word Sztorm.12 to the number 71466. SMSes can be sent up until 5 February inclusive.
The next performances of "Madame Curie" will be 2, 3 and 6 March 2012 in the Baltic Opera in Gdańsk.