New edition of Fantasy String Quartet III in E minor by Zygmunt Noskowski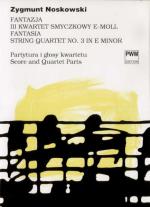 2012-03-14
Apart from working to develop musical culture and to present its customers with the greatest treasures of Polish and world music in reliable, critical arrangements, one of the overarching objectives of Polskie Wydawnictwo Muzyczne has always been to promote Polish music and encourage musicians in the country and abroad to draw upon our native repertoire, including the works of lesser known, but no less valuable, composers. It was this idea that inspired the publisher to create a series which would include the most outstanding Polish composers of chamber works created between 1800 - 1945, during the period in which chamber music played a special role in Poland, among other things due to the lack of permanent symphony orchestras. Creation of chamber works was cultivated not only by professional, but also amateur composers - in schools, associations and private homes. The most popular compositions were piano trios, string quartets and violin and cello music with piano accompaniment. Many of these works, unfortunately, have been lost, and so it seems even more important to present our customers with surviving parts of this very interesting repertoire.
All of the pieces from the
"Polish Chamber Music"
series are published in the form of a complete set of scores and instrumental parts to be able perform the composition. This series of publications is addressed to both Polish and international chamber music performers, educators (because of its artistic and didactic works), as well as musicians and musicologists dealing with the music of the nineteenth and first half of the twentieth century. Apart from original compositions, intended for trios, quartets and quintets, the series also includes transcriptions. Of particular interest are the arrangements by the eminent pianist Bartłomiej Kominek, who arranged Fryderyk Chopin's best-known concert pieces for piano with string quartet accompaniment, including two piano concertos and the Krakowiak, Op. 14. The Variations, Op. 2 on "La ci darem la mano" are still in preparation. Such transcriptions give musicians a chance to recreate the atmosphere of music salons, where it is possible to perform the orchestral repertoire while playing music with friends and acquaintances.
The latest number in the PCM series is Zygmunt Noskowski's Fantasy String Quartet III in E minor; h was one of the leading representatives of chamber music of the second half of the nineteenth century, next to Władysław Żeleński. Polskie Wydawnictwo Muzyczne took on the task of rescuing the composer's excellent work from the abyss of oblivion, for which Józef Reiss called in 1946, wishing that Noskowski's previously neglected works would appear permanently in concert halls. Published in 2012, the Quartet III is one of the composer's most interesting works; it has a free, fanciful form, with advanced harmonic resources. Reviews after the premiere in 1884 were quite cool, but the author, aware of the work's value, sent it to the "Carillon" Society in Brussels competition, where it received the second prize. Today, musicologists, including Professor Andrzej Wróbel, founder of the Polish Chamber Music Festival, and a hot advocate of restoring Noskowski's music to the public, agree that the Fantasy String Quartet III in E minor is one of the finest string quartets written at that time in Europe.
Next to works by such famous composers as Chopin and Lutosławski, the PCM series also includes works by authors who are worth rediscovering – such as Nowakowski, or Noskowski, or Rutkowski. We invite you to discover the treasures of Polish chamber from PWM's oldest and most prestigious publication series!
To date the following have appeared:
Grażyna Bacewicz :
- Trio for oboe, violin and cello
Fryderyk Chopin:
- Fantasy on Polish Themes, Op. 13 transcribed for piano and string quartet
- Grande Polonaise Brillante transcribed for piano and string quartet
- I Concerto E-minor op.11 op. 11 for piano and orchestra; transcribed for piano and string quartet
- II Concerto F- minor op. 21 op. 21 for piano and orchestra; transcribed for piano and string quartet
- Krakowiak op. 14 for piano and orchestra; transcribed for piano and string quartet
Ignacy Feliks Dobrzyński:
- Quintet F-major op. 20             
- Souvenir de Dresde op. 47 for oboe, piano and cello
Franciszek Lessel:
- Grand Trio op. 4 for piano, clarinet and horn
- Flute Quartet G-major op. 3 for flute, violin, viola and cello        
Witold Lutosławski:
- Trio for oboe, clarinet and bassoon
Stanisław Moniuszko:
- String Quartets [D-minor and F-major]
Zygmunt Noskowski:  
- Piano quartet D-minor op. 8     
- String Quartet II E-major
- Fantasy III String Quartet E-minor    
Józef Nowakowski:
- Grand Quintuor Op.17 for piano, violin, viola, cello and bass
Antoni Rutkowski:
- Trio op. 13 for violin, cello and piano
- Variations on an original theme for String Quartet
Karol Szymanowski:
- String Quartets opp. 37, 56         
Henryk Wieniawski:
- Scherzo-Tarantelle op. 16, transcription for violin solo and chamber ensemble
Kazimierz Wiłkomirski:
- String Quartet
Władysław Żeleński:
- Piano Quartet C-minor op. 61
Authors: Bibianna Ciejka, Bożena Kulig