Concert in Vienna Promoting the National Edition of the Works of Fryderyk Chopin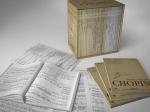 2012-10-16
On October 30, at the Vienna Conservatory, there will be a promotional meeting for the National Edition of the Works of Fryderyk Chopin, combined with a lecture and concert. Firstly, at 17:00 there will be a seminar and discussion on the role of urtext in the performance of Chopin's works led by prof. Paweł Kamiński in the reading room of the Universität für Musik und darstellende Kunst University Library in Vienna.
At 7pm, a concert in the Franz Liszt Hall will start. The concert programme includes: Ballade in G minor, Op. 23, Sonata in G minor, Op. 65, Introduction and Polonaise in C major, Op. 3, Trio in G minor, Op. 8.
Performers: Agnieszka Przemyk-Bryła (piano), Wofgang Watzinger (piano), Tomasz Strahl (cello), Edward Zienkowski (violin).
This project is financed by the Ministry of Culture and National Heritage of the Republic of Poland.