Witold Lutosławski Honoured with the Patronage of UNESCO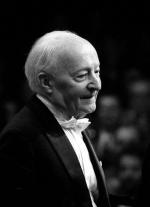 2013-01-10
The 100th anniversary of the birth of Witold Lutosławski has found itself on the prestigious international list of anniversaries celebrated under the auspices of UNESCO. The resolution on the anniversaries to be celebrated under the auspices of UNESCO in 2012-2013 was adopted two years earlier by the General Conference in its 36th session in October 2011. They supported the proposal put forward by the Minister of Culture and National Heritage, Bogdan Zdrojewski – also supported by the Polish Committee for UNESCO.
UNESCO patronage takes into account historical events and exceptional personalities, whose unquestionable scope and achievements are related to the organisation's mission, and especially the ideas disseminated by them of cultural dialogue and international understanding.
These events will form an opportunity for cooperation between many institutions and organisations preparing a programme of celebrations commemorating the legacy of great Poles.