Michał Dobrzyński Joins PWM Edition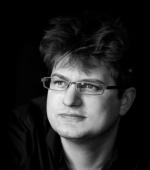 2013-01-24
We are delighted to announce the latest addition to their team of composers, Michal Dobrzyński – a young composer who has already gained recognition for his early successes. Our collaboration began with the publishing of Elegy I for violin and solo. 25 stycznia w Akademii Muzycznej w Bydgoszczy odbędzie się spotkanie, podczas którego zaprezentowane zostaną wydane przez PWM obydwie partytury. W spotkaniu weźmie udział kompozytor oraz kierownik katedry kompozycji AM w Bydgoszczy prof. Zbigniew Bargielski.
27 stycznia Michał Dobrzyński weźmie udział w spotkaniu z wykładowcami i studentami Kulturoznawstwa Wyższej Szkoły Gospodarki w Bydgoszczy. Spotkanie będzie związane z wydaniem PWM partytur kompozycji.
Szczegóły obu spotkań na dołączonych plakatach.
Michał Dobrzyński
, kompozytor, ur. 24 listopada 1980 w Szczecinie. W 2005 ukończył z wyróżnieniem studia kompozytorskie w Akademii Muzycznej w Bydgoszczy w klasie prof. Marka Jasińskiego i prof. Zbigniewa Bargielskiego, a w 2008 studia doktoranckie w Uniwersytecie Muzycznym Fryderyka Chopina w Warszawie. W latach 2007-2010 był uczestnikiem programu promocji młodych kompozytorów w ramach Europejskiego Centrum Muzyki Krzysztofa Pendereckiego. Stypendysta Ministra Kultury (2003/2004 i 2004/2005, 2012 – stypendium twórcze). Laureat konkursów kompozytorskich, m.in. II nagrody na Międzynarodowym Konkursie Kompozytorskim im. I.J. Paderewskiego (Bydgoszcz 2006), III nagrody na Ogólnopolskim Konkursie Kompozytorskim z okazji 25. rocznicy pontyfikatu Papieża Jana Pawła II (Wrocław 2003), wyróżnienia na Międzynarodowym Konkursie Kompozytorskim z okazji 30-lecia Akademii Muzycznej w Bydgoszczy (2004), pierwszej nagrody na VIII Międzyuczelnianym Konkursie na Fugę (2003).
Nakładem wydawnictwa DUX ukazała się monograficzna płyta kompozytora (wrzesień 2012). Wykonawcami są Chór i Orkiestra Filharmonii Śląskiej w Katowicach, Śląska Orkiestra Kameralna oraz soliści (m.in. Bartłomiej Nizioł). W 2008 ukazała się płyta "Młodzi kompozytorzy w hołdzie Fryderykowi Chopinowi"(DUX 0635/0636), na której znalazło się jego Trio florenckie na skrzypce, wiolonczelę i fortepian. Płyta otrzymała nominację do nagrody Fryderyk 2009 w kategorii "muzyka poważna/album roku – muzyka współczesna".
Utwory Michała Dobrzyńskiego wykonywane były na wielu krajowych koncertach i festiwalach, jak Międzynarodowy Festiwal Muzyki Współczesnej "Warszawska Jesień" (koncerty Koła Młodych), Międzynarodowy Festiwal Muzyczny "Sopot Classic", Międzynarodowy Festiwal "Sacrum non Profanum", Międzynarodowy Festiwal "Zamojskie Dni Muzyki", Festiwal Laureatów Konkursów Muzycznych w Bydgoszczy. Jego utwory były wykonywane także za granicą – we Włoszech (m.in. w ramach projektu "Young Musicans to Florence", na festiwalu muzyki współczesnej "Compositori a confronto" w Reggio Emilia, w Niemczech, Szwecji i Chinach. Jest członkiem Koła Młodych Związku Kompozytorów Polskich (w latach 2008-2010 – członek zarządu). Pracuje na Wydziale Kompozycji, Teorii Muzyki i Reżyserii Dźwięku Akademii Muzycznej w Bydgoszczy, gdzie obecnie pełni funkcję kierownika Międzywydziałowego Studium Muzyki Współczesnej.
Wybrane kompozycje:
Trzy pieśni do słów Rilkego (2012) na mezzosopran i orkiestrę
Mgnienie (2011) na kwintet smyczkowy, klarnet, fagot i róg
Iluminacje. Concerto-notturno (2010) na fortepian i orkiestrę smyczkową
De profundis (2010) na kameralną barokową orkiestrę smyczkową i chór mieszany
Elegia IV. Multifonia (2010) na orkiestrę smyczkową
Continuum (2009) na dwa fortepiany i dwie perkusje
Operetka (2009/10) kompozycja sceniczna na ośmiu solistów, aktorów i orkiestrę
Elegia II. Dialog? (2008) na skrzypce i elektronikę
Pentagram (2006) na fortepian
Elegia I (2006) na skrzypce
Magnus Dominus (2005/2010) na chór mieszany i orkiestrę symfoniczną
Dwa Preludia (2005) na fortepian
Koncert skrzypcowy (2004)
Rhitmos na fortepian i orkiestrę (2003)
Pax Omnes Gentes (2003) na chór mieszany i orkiestrę symfoniczną
Trio florenckie (2003) na skrzypce, wiolonczelę i fortepian
Concertino (2002) na kwintet dęty blaszany
Quartetto (2002) na kwartet smyczkowy
Pocałunek szarości (2002) na sopran i fortepian
Visions (2001) na organy
Five Stages (2001) na fortepian
Igraszki na koniec wieku (2000) na fortepian