DVD of Madame Curie by Elżbieta Sikora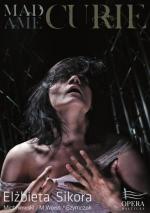 2013-03-06
There will be a promotional meeting on March 8 at 17.30 in the foyer of the Baltic Opera in Gdańsk with the artists and publishers of the Madame Curie DVD. The meeting will be attended by composer Elżbieta Sikora
Oprócz kompozytorki w spotkaniu udział wezmą Marek Weiss (reżyser), Wojciech Michniewski (dyrygent), Hanna Szymczak (scenograf), Anna Mikołajczyk (wykonawczyni partii tytułowej), Paweł Skałuba (wykonawca partii Pierre Curie), Katarzyna Chałubińska-Jentkiewicz (zastępca dyrektora NInA), Małgorzata Polańska (DUX).

Wydawnictwo powstało nakładem Opery Bałtyckiej w Gdańsku, Narodowego Instytutu Audiowizualnego (NInA) i Firmy Fonograficznej DUX.

Prapremiera opery "Madame Curie" odbyła się  15 listopada 2011 roku w Paryżu w sali UNESCO. Polska premiera miała miejsce 25 listopada 2011 roku w Operze Bałtyckiej w Gdańsku. "Madame Curie" została napisana przez Elżbietę Sikorę specjalnie na zamówienie Opery Bałtyckiej w ramach cyklu Opera Gedanensis.
Opera została uznana Sztormem Roku 2011. Wyróżnienie to przyznano kompozytorce i wykonawczyni głównej partii Annie Mikołaczyk. Ponadto Elżbieta Sikora została wyróżniona Pomorską Nagrodą Artystyczną "Gryf", Nagrodą Miasta Gdańska w Dziedzinie Kultury "Splendor Gedanensis", a za brawurowo wykonaną główną partię polskiej uczonej Anna Mikołajczyk otrzymała Nagrodę Teatralną Miasta Gdańska.

Spektakl spotkał się z uznaniem zarówno publiczności, jak i krytyków. Czytaliśmy m.in., że "Partie wokalne są bardzo wymagające, ale świetnie napisane. Tej operze z pewnością należy się dalsze życie" (Dorota Szwarcman), "Sikora połączyła oba media z taką maestrią, że momentami trudno było ocenić, czy słyszymy 'żywe' instrumenty, czy też ich 'przedłużenia' płynące z głośników"(Stanisław Suchora), "Dźwięki, niczym atomy rozpędzone w akceleratorze, zderzają się ze sobą, generując kaskady nowych dźwięków mknących we wszystkich kierunkach naraz. Dysonanse, migotliwe barwy, rozświetlone (spektralne?) akordy, szepty i krzyki oraz subtelnie użyta elektronika - tak wygląda to w mikroskali, z dystansu można zaś dostrzec świetnie rozplanowaną, dynamiczną formę" (Anna Pęcherzewska-Hadrych).

"Staramy się utrwalić jak najwięcej spektakli, zrozpaczeni tym, że kiedy nas zabraknie, nikt nie będzie w stanie wyobrazić sobie tego, co tworzyliśmy na scenie i wszelki ślad po nas zaginie wraz z ludźmi, którzy byli naszą widownią. Spektakle operowe utrwalone na dvd nie oddają nawet w przybliżeniu tego, co można przeżyć na żywym spektaklu. Ale jego rejestracja pozwala wyobrazić sobie, jakie to mogły być przeżycia, jeśli ktoś z dobrą wolą taką wyobraźnię zechce w sobie uruchomić. Zdajemy sobie sprawę, że popyt na naszą płytę nie będzie oszałamiający. Ale ta garstka melomanów, którzy ją kupią jest solą ziemi. Nie mierzmy ich ilości, bo ich jakość jest nie do przecenienia. Są skarby kultury narodowej, których wartość nie przekłada się na wskaźniki oglądalności. Opera Elżbiety Sikory 'Madame Curie' do nich należy."  – mówi Marek Weiss, Dyrektor Opery Bałtyckiej, wydawca DVD.

Nagranie opery na DVD było możliwe dzięki zaangażowaniu wielu instytucji, m.in.: Instytutu Polskiego w Paryżu, Polskiego Przedstawicielstwa przy UNESCO, Instytutu Adama Mickiewicza, Programu 2 Polskiego Radia, Radia Gdańsk, Polskiego Wydawnictwa Muzycznego.

"Rejestracja spektaklu operowego czy teatralnego nie jest nigdy dla widza tym samym doświadczeniem co kontakt z twórcami na przysłowiowe wyciągnięcie ręki, w teatrze, gdzie bez barier obcujemy z cielesnością aktora i współtworzymy całe przedsięwzięcie. W Narodowym Instytucie Audiowizualnym jesteśmy jednak przekonani, że rejestrowanie, a następnie udostępnianie publiczności, najbardziej wartościowych przejawów kultury muzycznej czy teatralnej jest nie tylko swego rodzaju ocaleniem ich od zapomnienia, dokumentacją, świadectwem określonej twórczości, ale że w tym procesie powstaje zupełnie nowy produkt kultury, autonomiczne dzieło, rządzące się swoimi prawami i mogące być szalenie interesujące zarówno dla tych, którzy mieli okazję na żywo zobaczyć spektakl, jak i dla tych, którzy stykają się z nim po raz pierwszy" - mówi Michał Merczyński, Dyrektor Narodowego Instytutu Audiowizualnego, współwydawcy płyty.