Marta Ptaszyńska's Holocaust Memorial Cantata at a Concert in the National Philharmonic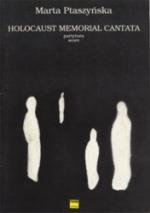 2013-04-02
On April 19, in the concert hall of the National Philharmonic, Marta Ptaszyńska's "Holocaust Memorial Cantata" will be heard. The work will performed as part of the concert marking the 70th anniversary of the Warsaw Ghetto Uprising. The piece "Holocaust Memorial Cantata. Lament for all people on Earth" for soprano, tenor, baritone, mixed choir and orchestra was written in 1992. The composer said, "As the Cantata was conceived as an unusually extended prayer, I gave it a contemplative and somber expression, sometimes exalted and solemn, sometimes with a lyrical character, just here and there bringing in fragments marked with more power and drama. The continuous repetition of the words not to forget, sung in English, Hebrew, Yiddish and Polish, have a fundamental significance and are very characteristic of funeral prayers. This recurrent phrase here becomes the driving force in this work. The Cantata consists of ten passages, contained in two parts. The dramatic culmination is placed in accordance with the structure of the poem, in the sixth paragraph, What Happened to Six Million Jews."
The concert marking the 70th anniversary of the Warsaw Ghetto Uprising will take place on 19 April at 19:30. It will be performed by the Polish Sinfonia Iuventus Orchestra conducted by Piotr Gajewski, the choir of the National Philharmonic led by Henryk Wojnarowski, Monika Mych-Nowicka (soprano), Dariusz Pietrzykowski (tenor), Adam Kruszewski (baritone), Eliza Kruszczyńska (soprano), Alon Harari (contratenor). In addition to Marta Ptaszyńska's work we will also hear John Tavener's "Lament for Jerusalem".
Prior to the concert, at 18:30, we invite you to a pre-concert lecture given by Małgorzata Gąsiorowska.