Musikmesse Music Fair Begins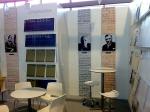 2013-04-10
The Musikmesse Music Fair begins today in Frankfurt. Polskie Wydawnictwo Muzyczne can be found in Hall 3.1 - traditionally dedicated to music publishers (stand B16). The new graphic design of the stand gives a great opportunity to present our offer to the fair. This year we are focusing on three Polish composers: Chopin, Szymanowski and Lutosławski. For years, Chopin has been the most important guest on the PWM stand, and the most sought after edition of his works is the National Edition, which this year is being offered in a miniature version (study score). Szymanowski is present on account of the Collected Works, called the Gesamtausgabe, scheduled for completion end of 2013, and Lutosławski has his jubilee year, not only in Poland.
Newly appearing, we also have a new group of publications of works written by composers known as "Generation 70", such as: Paweł Mykietyn, Marcel Chyrzyński, Agata Zubel, Wojciech Widłak, Aleksander Nowak, Maciej Jabłoński, Mikołaj Górecki, Wojciech Ziemowit Zych and Maciej Zieliński, and a new addition to the PWM catalogue: Sławomir Kupczak.
On stand B16 there is also a presentation of a collection of facsimiles of music by Chopin, published by the National Institute of Fryderyk Chopin, and books about Chopin for adults and children.
We welcome all Musikmesse visitors to stand B16.