Premiere of Henryk Mikołaj Górecki's Fourth Symphony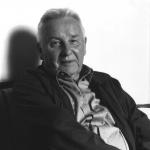 2014-04-07
On April 12, 2014 at the Royal Festival Hall in London the first performance of "Symphony IV" by Henryk Mikołaj Górecki will take place. The work will be performed by the London Philharmonic Orchestra conducted by Andrey Boreyko.
The work will be presented by the Los Angeles Philharmonic and at the Zaterdag Matinee concert series in Amsterdam at later dates (2015/2016 season).

The symphony, written for orchestra, organ and piano, bears the subtitle "Tansman Episody", and was inspired by Andrzej Wendland - the organiser of the Aleksander Tansman Festival in Łódź. Its premiere was originally scheduled for 17 April, 2010 at the Royal Festival Hall in the Polish! Year, but it did not come to fruition as the composer did not finish the work on account of health reasons, more exactly all the music was written, but not orchestrated. This task was undertaken by the composer's son, Mikolaj Górecki, according to notes left, as told in the book recently was published by PWM ("Górecki. Portret w pamięci").