The most important events of 2014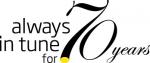 2015-02-16
2014 brought many interesting events that will certainly become part of the PWM Edition history. Names of new composers were entered in the PWM catalogue, many pieces had their premières and the artists collaborating with our publishing house were honoured with awards and distinctions. Below we present a selection of the most important events of 2014.

New faces in PWM Edition
In 2014 PWM Edition started cooperation with several composers, such as: Jan Kanty Pawluśkiewicz who is a songwriter and a composer of theatre and film music (click here to see an interview with Jan Kanty Pawluśkiewicz), Rev. Wojciech Kałamarz - a composer specialising in choral and church music, Henryk Jan Botor - a composer and an organist and Marcin Łukasz Mazur - a composer and a conductor.

Awards
We are proud to announce that many artists cooperating with PWM Edition were honoured with awards and distinctions in 2014. Among those artists we can find: Agata Zubel - who was announced to be one of ten most fascinating and original artists in the world. She also received the Polish Composers' Union award and Polonica Nova prize. "The New Yorker" has listed Agata Zubel's "Not I" album among the top ten recordings of 2014!. Second excellent artist is Paweł Łukaszewski who won the Choc de Classica award and Jerzy Kurczewski prize. Another distinguished artist who cooperates with PWM Edition is Zygmunt Krauze who was honoured with the Knight's Cross of the Order of Polonia Restituta. Last but not least is Mieczysław Tomaszewski - a long-term director and editor-in-chief of PWM Edition who received the Coryphée of Polish Music award.

Other important events
In 2014 PWM Edition completed the comprehensive edition of the Works of Karol Szymanowski.
For more information click here:
"Hagith" - completion of a series of Works of Karol Szymanowski

Szymanowski now complete!

PWM Edition was a partner of Film Music Festival - a unique event in Europe in terms of sound and motion picture technology as well as the scale and level of artistic performance. On the last day of festival young musicians performed works by Maciej Zieliński and Wojciech Kilar.

We also had sad moments in 2014 connected with passing away of Włodzimierz Kotoński and Jan Ekier.