World premiere of Mikołaj Górecki's "Elegy"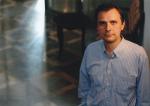 2015-03-30
On April 19, at the 6th Festival of World Premieres "Polish Modern Music" in Katowice, Tomasz Strahl and the AUKSO Orchestra conducted by Marek Moś will perform Mikołaj Górecki's Elegy for cello and string orchestra for the first time. Karolina Kolinek-Siechowicz talks to the soloist about the piece.
Cello is an instrument that is probably best suited for conveying the mood of elegy.
Yes, the cello idiom, melancholy, is contained in its sound, so it can perfectly convey the mood of elegy. The work by Mikołaj Górecki uses these possibilities to the best. When I saw the part of the cello, I had an impression that the composer must have played that instrument all his life.

As the first performer of that piece of music, did you have any influence on what it looked like? 
We consulted some structural issues, but when I got the score from PWM Edition, I was absolutely delighted. I am truly touched with it and it is difficult for me to stop practising it. I think that it significantly enriches the contemporary cello repertoire, which needs such communicative and beautiful pieces of music.

Can you say a few words about the structure of Elegy?
Elegy begins with a dark interlude, which is then followed by two first variations of a dramatic, virtuoso character. The cello part has been arranged perfectly: there are doublings, doubles and a virtuoso semiquaver texture. Variation number three is like a ray of sunshine: hope comes here for a while. Personally, I see an analogy to Elegy by Gabriel Fauré: a cello cantilena is fantastic, you can even say it is divine. Then, again, comes the virtuoso action turn and all falls into a dark wailing of the cello that is apparently heading towards non-existence.
Harmony and the way of creating dramaturgy have a tremendous role here. The unquestionable advantage of the piece is also its homogeneous sound arising from the instrumental line-up of cello against the string quintet that does not attenuate its sound. Precise notation of Elegy is also worth mentioning.
I think that Elegy is the work that is equally precious as the music of Mikołaj's father, Henryk Mikołaj Górecki, who had never composed any cello concerto. Maybe the son was supposed to finish his father's output according to the latter's genius, but in his own, colourful and communicative style.

Will Elegy become a regular position in your repertoire?
For sure! I would love to popularise it. I will try to play it whenever I can, and I will also encourage my students to play it.