New versions of Chopin's piano concertos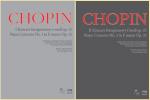 2015-04-14
We are glad to present you a special edition of two piano concertos by Fryderyk Chopin, arranged for piano and string quintet. The authors of transcriptions are famous pianist and International Fryderyk Chopin Piano Competition's laureate – Kevin Kenner and composer and cello player Krzysztof Dombek. 
The main aim of these versions of two Chopin Piano Concertos was to create a reduction of the full orchestral score in order to accommodate the small ensemble's particular requirements and at the same time to remain as close as possible to the original.

Reconstruction was preceded by extremely detailed analysis of the score source materials and historical documents, which prove that there was a practice of performing concertos by Chopin himself accompanied by the chamber ensemble. The transcription was based on the National Edition of Chopin's works edited by professor Jan Ekier.

The Piano Concerto No. 2 in F minor op. 21 – though published as the second – was written first, between autumn 1829 and spring 1830. "It was composed in accordance with the requirements of the genre, in line with the model derived from Mozart, but adopted directly from Hummel, whose influence is clearly discernible. There is no doubt that the pianistic texture of this work was shaped by the technique termed style brillant. It should be added, however, that in both Chopin's concertos (written on a single wave of inspiration), the 'brilliant'-style virtuosity was taken to its pinnacle. It was also overcome, by restoring to the themes a Classical, Mozartian simplicity […] and by infusing the whole work with typically Romantic expression, no longer sentimental, but perceived as poetical. (Author: Mieczysław Tomaszewski, series of radio programs "Fryderyk Chopin's Complete Works", Polish Radio II; source: NIFC http://pl.chopin.nifc.pl)

Soon after the success of Concerto in F minor Chopin wrote Piano Concerto No. 1 in E minor op. 11, where he kept this characteristic youthful, romantic aura, but – as professor Tomaszewski puts it – this concerto "seems to be written with a surer hand and a more experienced ear".

New versions of Chopin's concertos were published thanks to the cooperation of PWM Edition and The Fryderyk Chopin Institute (NIFC).

We invite you to read an interview with Kevin Kenner in Quarta magazine, where he speaks about the origins and work on the new arrangements of Chopin's concertos. The interview is available here: Chopin's chamber concertos (Quarta No. 3, August 2014, page 17).