Musikfestspiele Saar 2015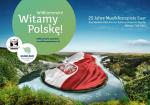 2015-05-07
The Musikfestspiele Saar Festival, which is held from February to July 2015, presents "Polish rarities": the music by Polish classics such as Frederic Chopin, Karol Kurpiński, Stanisław Moniuszko, Karol Szymanowski and modern Polish composers: Krzysztof Penderecki and Henryk Mikołaj Górecki.
On 23 May "Halka" opera by Stanisław Moniuszko will be staged to the libretto in German. The work by Moniuszko will be performed by the Pfalztheaters Kaiserslautern soloists, choir and orchestra conducted by Rodrigo Tomilllo. The performance will be directed by Michael Sturm.

On 31 May the festival audience will hear The Symphony of Sorrowful Songs No. 3, Op. 36 by Henryk Mikołaj Górecki, with the Collegium Vocale Blieskastel and Deutsche Staatsphilharmonie Rheinland-Pfalz under the baton of Christian von Blohn.

Between 6 and 8 June, the Symphony Orchestra of Artur Malawski Philharmonic in Rzeszow with Wojciech Rajski as conductor and Daniel Bollinger as clarinet solo will present The Clarinet Concerto in B Flat Major by Karol Kurpiński. The concerto was composer in 1823 in Paris. The piece is very popular around the world and is appreciated by the artists playing the clarinet solo part.

Apart from the work by Kurpiński, the programme of the concerts encompasses the music by Tchaikovsky (6 June), and by Polish composers: the Piano Concerto Op. 21 No. 2 in F minor by Frederic Chopin, "Bajka" (Fairytale) by Stanisław Moniuszko, "Krzesany" and the Suite to "Pan Tadeusz" film by Wojciech Kilar (7 and 8 June).
Details: http://www.musikfestspielesaar.de/programm/programm2015/