The Prize of PWM Edition for the Northern Spirit Kammerchor Choir at the "Cracovia Cantans" Festival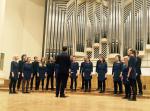 2015-06-15
We are happy to inform you that the Northern Spirit Kammerchor choir from Bremen, Germany, won the special prize of EUR 500, founded by PWM Edition on its 70th anniversary.
According to the rules of the 6th International Krakow Choir Festival "Cracovia Cantans", the international jury: Romuald Twardowski (Polska), Ko Matsushita (Japan), Irina Roganova (Russia), Javier Busto (Spain) and Rihards Dubra (Latvia), awarded, among others, the foreign choir for the best interpretation and Festival perfomance of a choral piece by a Polish composer of the PWM catalogue.

In its festival programme, the awarded choir, Northern Spirit Kammerchor , conducted by Jaret Choolun, presented e.g. "The Sea" from "Tryptyk morski" (Marine Triptych) by Romuald Twardowski.

The awarding ceremony took place on Sunday, 14 June, at the official Gala at the Karol Szymanowski Philharmonic in Kraków.

Congratulations!