Polish Music in China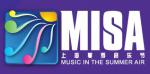 2015-06-24
On 13 and 14 July, the audience of the Music in the Summer Air festival in Shanghai will hear the music of Polish composers: Wojciech Kilar, Henryk Mikołaj Górecki, Wojciech Dankowski and Karol Kurpiński, performed by the Young Polish Philharmonic Orchestra under the baton of Adam Klocek.
The programme of the concerts includes "Symphony in D major" by Wojciech Dankowski, "Orawa" by Wojciech Kilar, "Three Pieces in Old Style" by Henryk Mikołaj Górecki and two works by Karol Kurpiński: Ouverture to "Two Cottages" opera and Ouverture to "The Czorsztyn Castle" opera. The first of the concerts will be held at the Symphony Hall in Shanghai and the second one at the Urban Music Square.

An annual Music in the Summer Air (MISA) festival in Shanghai returns in July on an unprecedented scale, covering venues in Xuhui and Huangpu districts. This year, the festival is devoted to "Classical +" theme, comprising both classical and jazz / flamenco concerts - 22 events in total, which will present music in a broader perspective.

For detailed programme, click here.