38th Karol Szymanowski Days in Zakopane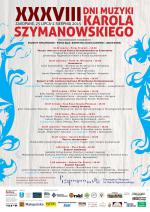 2015-07-14
As every year, in late July and early August, Zakopane, which used to be a special place in Karol Szymanowski's life, turns into the centre of his music. This year, during the 9 festival days, we will be able to hear the music of the festival patron, as well as the first performance of Trio concerto by Mikołaj Górecki.
38th Karol Szymanowski Days will be held between 25 July and 2 August. The audience will listen to performances of ensembles from Poland and other countries: Czech Republic, Canada, Ukraine and Italy.
The opening concert of 26 July includes Harnasie for two pianos with Joanna Domańska and Andrzej Tatarski. The Mater Dei Violin Quartet by Ewa Fabiańska-Jelińska will be performed for the first time on 27 July, at the concert aimed to celebrate the 100th anniversary of Szymanowski's Myths.
During the piano recital on 31 July, Mikołaj Warszyński will play Haydn, Liszt, Chopin and Szymanowski. On Saturday, 1 August, Szymanowski's chamber music will be presented by Sedlaček String Quartet (Czech Republic), winner of the first prize in the 1st International Karol Szymanowski String Quartet Competition (2014). At the final concert on 2 August, Sinfonietta Cracovia with Massimiliano Caldi as conductor and Joanna Domańska (piano), Roman Widaszek (clarinet) and Tadeusz Tomaszewski (horn) will perform Mikołaj Górecki's Trio concerto for clarinet, horn, piano and string orchestra for the first time. The programme also includes Serenade for String Orchestra by Mieczysław Karłowicz, Five Folk Melodies and Overture for Strings by Witold Lutosławski, Orawa by Wojciech Kilar and Three Pieces in Old Style by Henryk Mikołaj Górecki.